What is the Polish Chamber of Physiotherapists?
The Polish Chamber of Physiotherapists (PChP) is a professional governing organisation associating and representing all physiotherapists in Poland with the right to practice their profession. PChP grants and oversees physiotherapy licences and otherwise acts as the competent authority responsible in Poland for the profession of physiotherapy, which is the profession of public trust. PChP, representing around 75 000 physiotherapists, whose amount is constantly increasing, places a priority on patient safety and enhances the development opportunities of physiotherapists.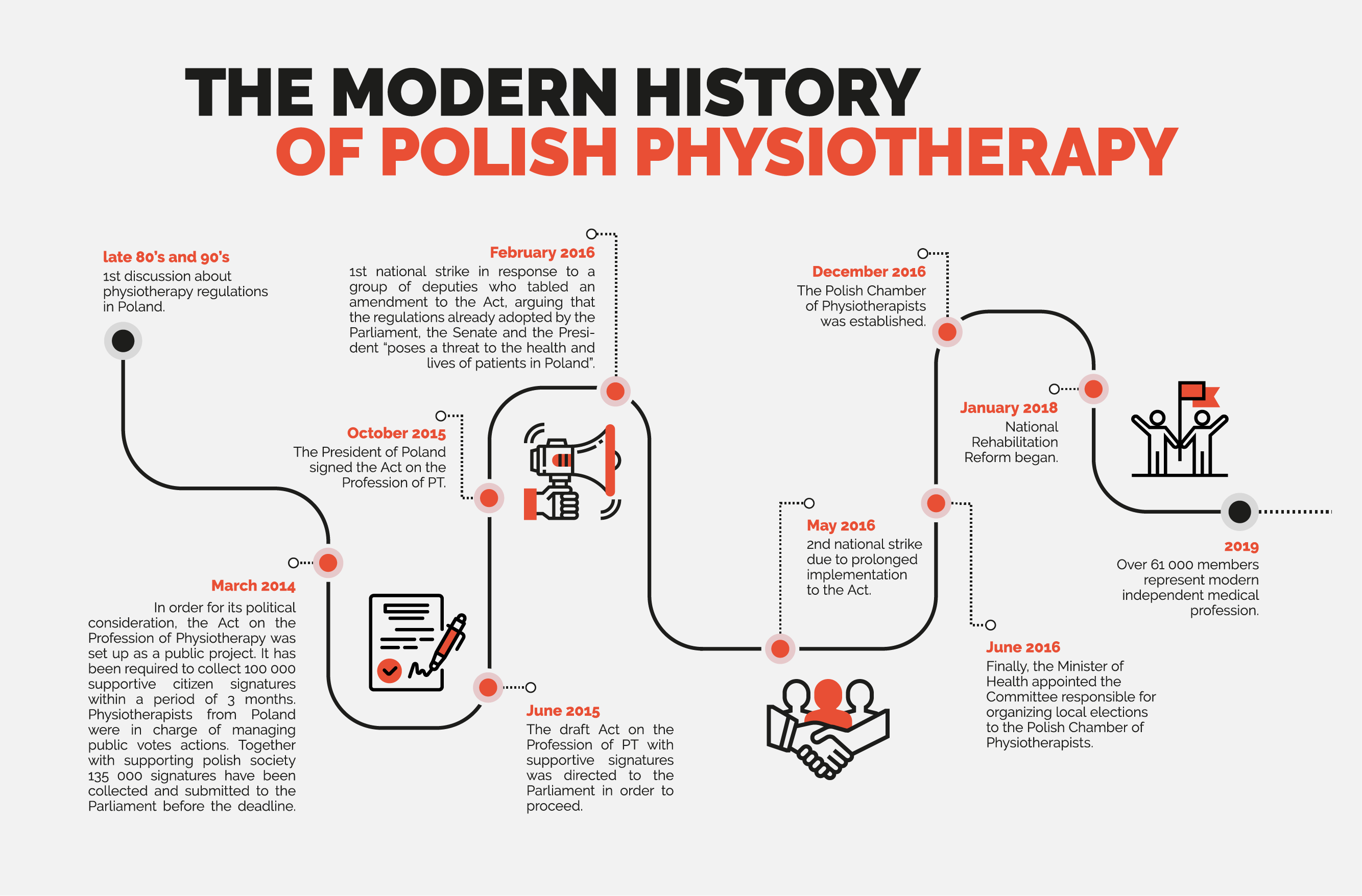 The Act on the Profession of Physiotherapy passed on 25 September 2015 came into effect on 31 May 2016.
The Act established physiotherapy as a regulated profession in Poland, the profession of physiotherapy is recognized as an independent medical profession, a physiotherapist can independently provide medical services in the area of physiotherapy.
Physiotherapeutic code of practice is set out in the Act and its secondary legislation, as well as other statutory provisions regulating the provision of health care in Poland. By virtue of law, each physiotherapist is a member of the governing organisation of physiotherapists which represents practitioners of physiotherapy and works to uphold proper standards of practice. PChP is a Warsaw-based organisational unit of the governing organisation and is granted legal personhood. Physiotherapy licence is recognised by the Polish Council of Physiotherapist which is a body of PChP. In addition, the Act explicitly prescribes that a physiotherapist is subject to disciplinary proceedings conducted by the bodies of PChP which may order temporary suspension or removal of physiotherapy licence.
Only properly licenced physiotherapists entered to the National Registry of Physiotherapists (https://kif.info.pl/rejestr/) will have the right to use the title 'physiotherapist' while pursuing their professional practice. Other persons will cease to be physiotherapists from the legal point of view.
From January 1, 2020 to the end of 2022, the Polish Chamber of Physiotherapists was a member organization of World Physiotherapy. From 2019, we also support the PEDro Physiotherapy Evidence Database, a platform created over 20 years ago, which aims to support the practice of physiotherapy based on reliable and up-to-date scientific publications